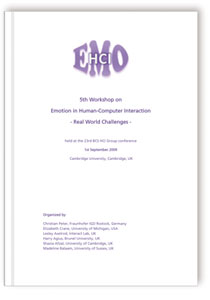 Emotion in Human-Computer Interaction - Real World Challenges
Proceedings of the 2009 International Workshop
Hrsg.: Christian Peter, Elizabeth Crane, Lesley Axelrod, Harry Agius, Shazia Afzal, Madeline Balaam; Fraunhofer IGD, Institutsteil Rostock;
2010, 52 p., zahlr. Abb. u. Tab.,
Sprache: Englisch
Fraunhofer Verlag
ISBN 978-3-8396-0088-7
nur als Download erhältlich
kostenlos
Affective computing is well recognised as an interdisciplinary field of research combining, bringing together aspects of human-computer interaction, design, psychology, sociology and the arts with the common goal of developing technology that serves the human in more sensible and sentient way. With the community growing ever faster and the number of projects, ideas, problems and challenges still rising faster than that of possible solutions, an annual meeting of those affected by such developments has proven to be a good anchor point in the course of the scientific year. This volume provides an account of the fifth workshop on emotion in human-computer interaction, held in the frame of the British HCI group's annual conference in 2009.
* Alle Preise verstehen sich inkl. der gesetzlichen MwSt. Lieferung deutschlandweit und nach Österreich versandkostenfrei. Informationen über die Versandkosten ins Ausland finden Sie hier.